"The Destroyed Man" officially wraps up filming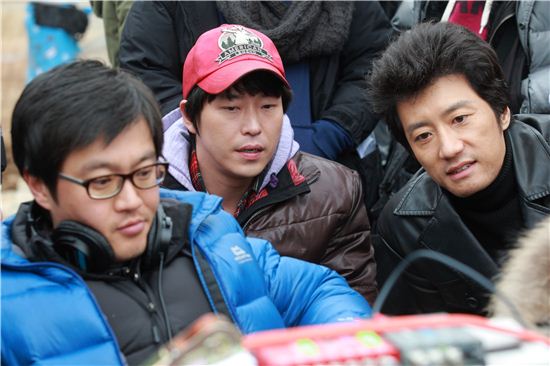 L-R: Director and writer Woo Min Ho, Uhm Ki Joon and Kim Myung Min
Filming of Kim Myung Min's new movie The Destroyed Man officially wrapped up late in the afternoon of Sunday, 4 April 2010.
The last scene that took place in a reedy area in Paju, Gyeonggido, is a face-to-face encounter between Joo Young Soo, an ex-pastor (played by Kim Myung Min) whose daughter is kidnapped and presumed dead, and Rudolph, the psychopath kidnapper (played by Uhm Ki Joon). Both actors impressed the staff and crew with their superb performance.
Staff and crew of "The Destroyed Man
"
Kim Myung Min said, "When I read the scenario for the first time, I worried about how I can best portray this character. But even then, I wanted to accept the offer." He added, "I didn't realize that shooting has ended. The staff and crew all worked hard for it, and I'm glad to be part of the work that we can be truly proud of."
The Destroyed Man also stars Uhm Ki Joon and Park Joo Mi. It is scheduled to hit theaters in early July.
Written by: michi
Translation credits: ljubov and Luna
Photo credits:
6 May 2010, MyungMin International