090724 - Fight for the box office
Korean actors pit their acting skills in the fight for box office ratings in the second half of the year
2009-07-22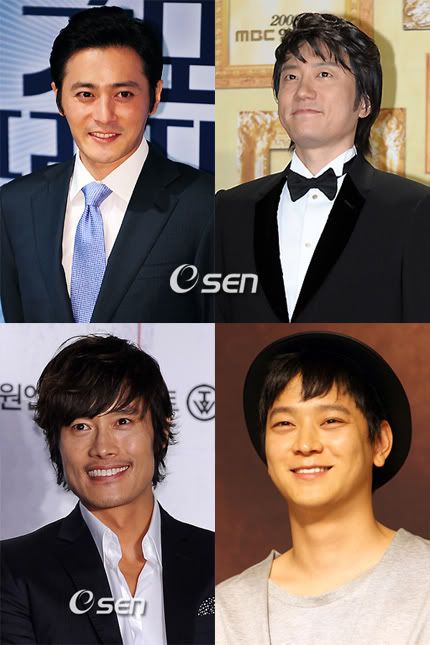 Clockwise from top left Jang Dong-gun, Kim Myung-min, Kang Dong-won, Lee Byung-hun
In the upcoming films in the second half of 2009, what's most prominent should be the transformation the actors go through. They are – the one who fights with the "muscle atrophy disease", Kim Myung-min, a "president" who is filled with humanity, Jang Dong-gun, the villain in a Hollywood movie, Lee Byung-hun and Kang Dong-won who becomes Jeon Woo-chi.
Kim Myung-min plans to move the audience to tears with the 2009 film "My Love By My Side" which will be released in the fall. "My Love By My Side" depicts a man who's mentally and emotionally sound, but his body is gradually paralyzed by one of the world's most cruel diseases – the Lou Gehrig's Disease. The touching story is about Jong-woo, played by Kim Myung-min, who has to struggle with the disease, and Ji-soo, played by Ha Ji-wan, who stays by him. Kim Myung-min revealed that in order to play the role of a Lou Gehrig's Disease patient well, he went through a painful process mentally and physically. When he was filming for "Beethoven Virus", his weight reached 72kg, but for the filming of "My Love By My Side", his weight dropped to 52kg. While preparing for the filming, he even had nightmares occasionally, dreaming that he had been diagnosed with the Lou Gehrig's Disease. Kim Myung-min expressed that he does not want to lose weight drastically again.
"Good Morning, Mr President" is Jang Dong-gun's latest film after the 2005 movie "Typhoon". It is directed by Jang Jin, and is a comedy about three presidents. In the movie, Jang Dong-gun plays a young charming president. When asked why he chose this film, Jang Dong-gun says that it's a challenge for him to act in a comedy as he has been playing tragic roles in the past. Since this is a chance for him to greet the audience with laughter, he decided to act in "Good Morning, Mr President".
Lee Byung-hun displays agile skills in the upcoming "G.I. Joe: The Rise of The Cobra" which will start screening on the 6th of August. This will mark his entrance into Hollywood and Korean fans are curious about his parts in the show. "G.I. Joe" is an action movie that shows the fight between the terrorist group, the "Cobra Command" and the heroes, G.I. Joe. Lee Byung-hun plays the role of a villain ninja in the show.
Kang Dong-won in turn transforms into a Jeon Woo-chihi. The movie "Tale of Jeon Woo-chi" tells a story of a magician, Jeon Woo-chi who was sealed in an ancient scroll for a crime he did not commit and what happened 500 years later when he was released from captivity and had to fight against evil goblins in Modern Korea. This film is directed by Choi Dong-hun, who has directed films such as "The Big Swindle". The cast includes Kang Dong-won, Kim Yun-seok, Im Su-jeong, Yu Hae-jin, Yum Jung-ah. Production cost was 100 billion won(about 5000million RMB), and is one of the most anticipated films in the second half of 2009.
Kang Dong-won who plays the lead character in "Tale of Jeon Woo-chi", took lessons in stunts, fencing and fighing to prepare for the show. According to the producers of the show, wire stunts took up almost 50% of the show, but Kang Dong-woo did not use a stuntman, resulting in injuries. The film will be released in December 2009.
Source:
http://www.m1905.com
exclusive article
Translation to Chinese with thanks to Yanzi from 5d6d, posted by Candy.
Original article found
here
.