090725 - Weight is a strategy of stars
Weight is one of the strategies of stars
2009-07-24 10:47:00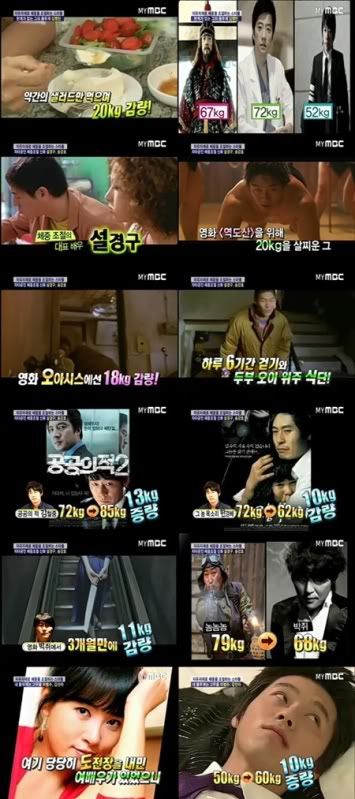 In the show 'A pleasant day' which was broadcast by MBC on the 24th, it talked about stars who gained and lost weight.

Kim Myung-min who acted as a Lou Gehrig's Disease patient in the movie 'My Love By My Side' ate only a little salad in order to lose 20kg. Kim Myung-min weighed 67kg when he was acting in KBS's 'The Immortal Lee Soon-Shin' and 72kg in MBC's 'White Tower'. His weight is now 52kg.
Sol Kyung-gu gained 20kg for the movie 'Rikidozan' and lost 18kg in the movie 'Oasis' which was following his 13kg weight gain in 'Public Enemy'. He again lost 10kg for the movie 'Voice of a Murderer', and was known to have weight that changes like the rubber band. Sol Kyung-gu's secret to his weight management is goggi, tofu and cucumber as his main menu for 6 times a day.
At the same time, Song Kang-ho lost 11kg in 3 months to portray a vampire in 'Thirst'.
On the other hand, Kim Suna was a representative of female stars who gained weight for a production. Kim Suna gained 10kg for the MBC drama 'My Lovely Sam-soon'.