090922 - Kim Myung Min "Psychiatric Treatment recommended"
Kim Myung Min "Psychiatric Treatment recommended"
Note: Edited with thanks to Evon's feedback. However, there's still a part in bold. He couldn't have been a Korean beauty icon...he wasn't cast in many roles because he was not considered to be good looking.
Kim Myung Min acted as Lou Gehrig's Syndrome victim Jong Woo in "My Love By My Side"(Directed by Park Jin Pyo) . Fans are curious. What kind of performance can we expect next? Yi Soon-shin, Jang Joon-hyuk, Kang Mae, and what is next?
Kim Myung Min did not fail to live up to expectation. He lost 20 kg in weight. When he started out,
he was known as
'momuchan' (Korean beauty icon)

.
However, for this movie, his cheeks sank in and his rib bones showed. Now, Kim Myung Min's acting has reached the level of a 'master'.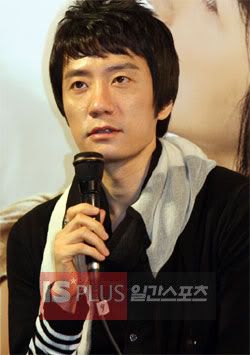 Life in isolation for three and half months.
In "My Love By My Side", Kim Myung Min was not just acting, but living out the life of the character. Many of the scenes were shot like they were filmed for a documentary. The reason is because the gradual weakening of Jong-woo must be expressed. For three and a half months, he shut himself up in a hotel room in Pusan. There was no one and he was alone. As always, communication with his family was cut once filming started. Light that streamed in from the windows were cut off too. He stayed alone in the room and his body and heart weakened.
"When I heard about the casting, I did not have the confidence to carry out as much as 0.01%. I thought that I'd die if this was done. However, it will not be solved even if I avoided it. Fate is a strange thing and I was destined to accomplish it."
There was even talks of psychiatric treatment...
Kim Myung Min went through a period of recovery recently. The process was the opposite of losing weight. The other day, he finally began to eat rice. For one month, he has not eaten meat. He finally felt the meaning of the words 'only those who have eaten meat will know the taste'.
Originally, his weight was around 70 kg, but he is 62-63 kilos now. He's making an effort for recovery, but it has just been one month. A doctor who assessed the situation said that "It is necessary to accept the situation as it is now". He was prepared, but still a little anxious.
People from the agency said "Why don't you try receiving psychiatric treatment?" If they are worried about my depression, it may be necessary... But what I need to do is calmly wait for the movie ratings. (laugh)