091005 - "Heaven" tops box office over Chuseok weekend
"Heaven" tops box office over Chuseok weekend
2009.10.05 13:56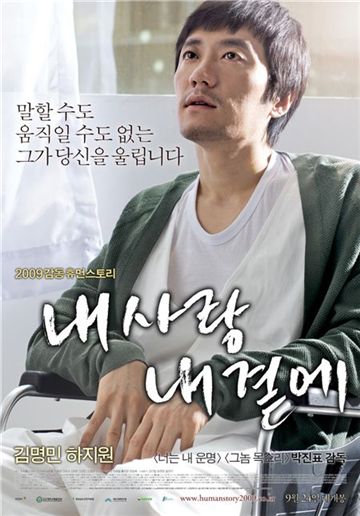 Current No. 1 movie "Closer to Heaven" [Zip Cinema]
"Closer to Heaven", starring Kim Myung-min and Ha Ji-won, topped the Korean box office over the Chuseok thanksgiving holiday weekend.
"Heaven" attracted 486,432 viewers over the weekend of October 2-4, continuing its two-week run atop the box office, according to estimates released by Korea Box Office Information System (KOBIS) on Monday. The film has accumulated over 1.4 million viewers since its opening on September 24.
Historical epic "The Sword with No Name", starring Cho Seung-woo and Su-ae, followed in second place with 377,199 viewers over the same period. The film's total number of viewers surpassed one million mark in eleven days of its release.
"Surrogates", a Hollywood action flick starring Bruce Willis, stood at third place with 301,361 viewers over the three-day holiday and 366,418 to date.
Korean film "Goodbye Mother" continued to remain strong, drawing 214,419 viewers over Chuseok. Standing at No. 4, the former box office topper has accumulated over 1.5 million viewers.
Other films in the top ten spots included Korean film "Take Off", "Gamer", "Fame" and "Final Destination 4".
Editor : Jessica Kim jesskim@asiae.co.kr
<ⓒ10Asia All rights reserved>