091012 - "Heaven" tops advance ticket sales for 2nd week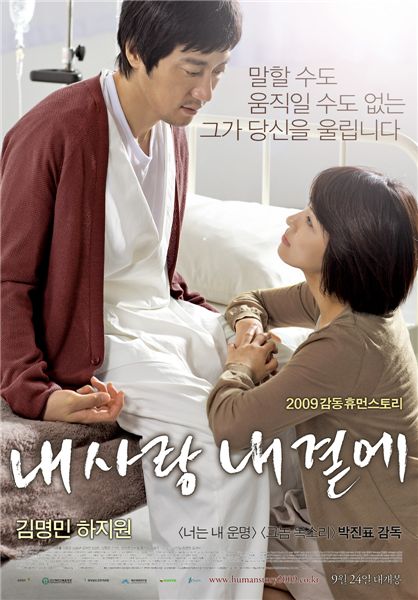 Korean film "Closer to Heaven" is racking up advance ticket sales for the upcoming Chuseok thanksgiving holiday weekend, winning the race for reservations for the second consecutive week, according to a press release on Wednesday.
According to Korea Film Council's electronic network, the ticket reservation rate for currently stands at nearly 30 percent. On sizzle.com, the percentage is even higher at 30.6 percent and at 29.29 percent on ticketlink. "Heaven" also topped the charts of websites Interpark.com and maxmovie.com at 27.51 and 21.10 percent, respectively.
The film attracted 650,000 viewers last weekend to top the box office in its first week of release, beating out Hollywood movies like "Surrogates" and "Final Destination 4".
"Heaven" is about a couple and their family's struggle with Lou Gehrig's disease. The movie stars Kim Myung-min, best known for KBS drama "The Immortal Lee Soon Shin" and the recent "Beethoven Virus", and Ha Ji-won, who appeared in the summer blockbuster "Haeundae".
Reporter : Lynn Kim lynn2878@asiae.co.kr
Editor : Jessica Kim jesskim@asiae.co.kr