090210 - Kim Myung Min in "My Love By My Side" Changes into Lou Gehrig Patient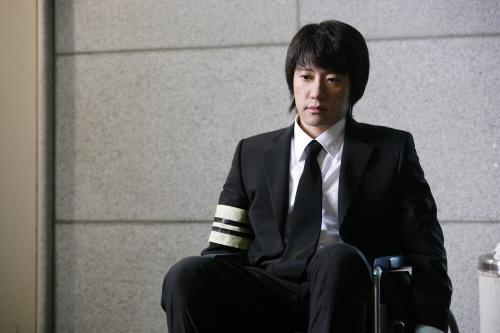 Kim Myung Min who brought a "Kang Mae" syndrome in last year's major hit MBC drama "Beethoven Virus" changes into a new character in his new film, "My Love By My Side". Kim plays is an incurable patient but a cheerful person, actively looking for his love. Since he has to act a character becoming weak from the disease, Kim had already started a diet program to lose 10 kg.
The first film shooting took place in a funeral parlor in Jinhae, Kyungsamnamdo on February 10. The shooting of the day was for the first scene of the film as well as a fateful encounter of two persons Jong Woo and Ji Soo.
Jong Woo and Ji Soo lived in the same town in their childhood. They met each other again by chance as a chief mourner and a funeral conductor after twenty years. Jong Woo recognized Ji Soo at once, but Ji Soo didn't recognize him in his sickly figure.
Kim Myung Min, with his lean face, becoming a perfect Lou Gehrig patient surprised people. The staff said they could not find any trace of Kang Mae in him, who devoted himself to the character Jong Woo wearing a black mourning suit and sitting in a wheel chair.
Kim, expressing complex feelings of Jong Woo suffering from an incurable disease and sadness of losing his mother is stimulating our expectation about another new character he is creating now. He read books about Lou Gehrig's disease for months before shooting and visited patients and doctors regularly to analyze the character perfectly and impressed the director and the staff with his passion.
Ha Ji Won, playing a funeral conductor Ji Soo, also impressed them, performing the skillful funeral procedure including dressing the deceased. Ha, who had her hair, which she kept for years, cut short to express Ji Soo's brave personality looks very resolved, saying "It's going to be a film that I will remember for the rest of my life as an actress. I'll do my best."
"My Love By My Side" will be released this coming fall after four months of film making.
Source:
Nownews.seoul
Translation: cat.on.the.tin.roof/KMM Thread, Soompi